My Lupus Story

How will you feel if your doctor will tell you that you have SLE (Systemic Lupus Erythematosus) and there's no cure on it? In 2002, I was 19 years old, on my 2nd year college when I had hematoma on my legs and I easily get tired so I went to see a hematologist to find out what was it.
Read more...

Letter from a Butterfly


Today I saw myself as I was many years ago,
fraid to think of what tomorrow'd bring, why was this so?
In eyes wet with tears of feeling, Lord, why should it be?
Why should I be so ill like this; oh, why should it be me?

Read more...
Let's Band for Arthritis and Lupus - A Patient Enlightenment Workshop
Written by Lupus ph Administrator
Wednesday, 16 December 2009
29 November 2009
AMV College of Accountancy Multi-Purpose Hall
University of Santo Tomas, Manila


A PATIENT ENLIGHTENMENT WORKSHOP for both systemic lupus erythematosus (SLE) and Rheumatoid Arthritis (RA) patients was held last 29 November 2009 at the UST College of Accountancy Multi-purpose Hall. The workshop was based on the principle of "ILLNESS TRAJECTORY MODEL", in consonance with the belief that the patient's improved well-being and quality of life will depend on the intervention (medical or psychological) provided. It also aims to enlighten both patient and caregiver on the deeper understanding of their illness, providing them an opportunity to be in control of their illness.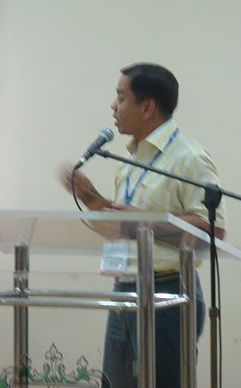 Dr. Marthony Basco, a pediatrician who has been involved in group dynamics and training program sessions, designed the mechanics, questionnaires and procedures used in the activity, and provided overall supervision.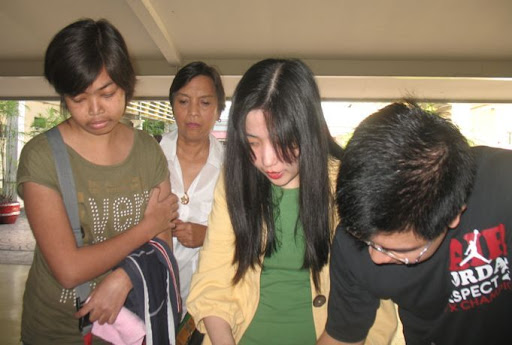 The Lupus workshop was held in the morning participated by 60 patients and caregivers. The afternoon slot was for chronic rheumatoid arthritis attended by 46 patients and caregivers.
Read more...
Ten Topics in Rheumatology ASIA 2009
Written by Ramon Miguel Molina
Tuesday, 08 December 2009
"A 69 year old female, known hypertensive was seen at the clinic for acute onset of eye and mouth dryness with a bilaterally enlarged parotid glands and edema. Initial diagnosis at that time was Sjogren's syndrome with glomerulonephritis. Two months later, she returned with an enlarging mass on the right breast and modified mastectomy was performed with a diagnosis of Breast Lymphoma. After seven months, she experienced sudden monocular blindness of the Right eye and MRI of the orbits revealed swelling and enhancement of the intracanalicular and prechiasmatic segments of the right optic nerve."

No. This is not an episode of House M.D. or something you normally read in Harrison's Textbook of Internal Medicine. This is real life Medicine. And this is what Ten Topics in Rheumatology is all about.


It all started in 1985 at the Lupus Unit of St. Thomas' Hospital in London UK, where the renowned rheumatologist, Professor Graham Hughes brilliantly organized an innovative 2-day postgraduate rheumatology course aimed to bring together the best minds in the field of Rheumatology to discuss advances in Lupus and connective tissue diseases as well as to present interesting updates and rare or "hot" topics encountered in the clinics. Originally limited to the United Kingdom, the symposium has immensely grown in popularity and has reached past its borders with the efforts of Professor Hughes' Singaporean counterpart, Professor Feng Pao Hsii who pioneered and hosted the successful Ten Topics in Asia Conference last September 2008.

This year, equally renowned Filipino Rheumatologist and founding president of Rheumatology Educational Trust Foundation, and the current head of the Section of Rheumatology of the University of Santo Tomas Faculty of Medicine and Surgery, our very own Professor Sandra V. Navarra M.D. successfully organized the 2nd leg of the Ten Topics in Asia here in our very own campus last November 28 and 29, 2009.
Read more...
Written by Julie Cabatit-Alegre (The Philippine Star)
Saturday, 14 November 2009
MANILA, Philippines - Robelle Mae Tananguran was on her second year in Medicine proper when she was diagnosed with systemic lupus erythematosus (SLE). "I was forced to make the painful decision to take a leave of absence from school," she relates. The exact cause of lupus is not known, but stress has been associated with the chronic, often debilitating disorder. It did not help that the heavy demands of her studies made Robelle susceptible to a lot of stress. Systemic lupus erythematosus (SLE) is the more potentially serious type of lupus as it can cause damage to several major organs of the body. A milder form is known as discoid lupus erythematosus (DLE), which usually affects only the skin.

"Lupus is an autoimmune disease which can affect joints and muscles as well as the skin, and can involve one or more vital organs such as the kidneys, heart, lungs, brain, blood vessels, and the nervous system It is characterized by varying degrees of inflammation in all or any of these areas," says Dr. Sandra Navarra, associate professor (rheumatology and clinical immunology) at the University of Santo Tomas Faculty of Medicine and Surgery.
Read more...
A promising new treatment for lupus
Written by Perry Gil S. Mallari, ManilaTimes.Net
Saturday, 03 October 2009
Despite the fact that five million people worldwide are afflicted with lupus, the general public is not very well informed about the nature of this disease.

Lupus is a chronic, often debilitating inflammatory disease that occurs when the body's immune system malfunctions and attacks its own tissues and organs.In lupus and certain other autoimmune diseases, increased amount of B-lymphocyte stimulator (BlyS) is believed to contribute to the production of autoantibodies (antibodies that attack and destroy the body's own healthy tissues). The presence of autoantibodies in lupus patients appears to correspond with the severity of the illness. The symptoms of lupus may include extreme fatigue, painful and swollen joints, unexplained fever, skin rash and kidney problems. Lupus can lead to arthritis, kidney failure, heart and lung inflammation, central nervous system abnormalities, inflammation of the blood vessels and blood disorders.

Lupus generally affects women. The ratio of affliction is 10 females to one male. It commonly affects Asian, Hispanic and African-American women. Women who have the highest chance of acquiring lupus are those who are within the ages of 18 to 50. Lupus is a multi-system lifetime disease, which has no permanent cure yet, but can be put on check through special treatments. There is still no scientific finding on the direct cause of lupus therefore it cannot be prevented.

In recognition of the seriousness of the threat that lupus poses, President Gloria Arroyo on December 17, 2007 signed Proclamation 1435 declaring the first week of February every year as "Lupus Advocacy Week." A part of the proclamation reads, "People with lupus are more likely than the general population to be hospitalized [32 percent in 1 year] and unable to work [66 percent compared to 38 percent non-participation work rate in general population] because of their illness." Pertaining to the high cost of treatment, the proclamation says, "Lupus poses an enormous drain on the personal, family, and community resources, which translates not only to personal and family economic losses but also to a significant loss of productivity among these patients who should otherwise be in the most productive years of their lives."
Last Updated ( Saturday, 03 October 2009 )
Read more...
<< Start
< Prev
1
2
3
4
5
6
7
8
Next >
End >>
Results 37 - 45 of 69
* Website Policies, Terms, Confidentiality Agreement and Disclaimer